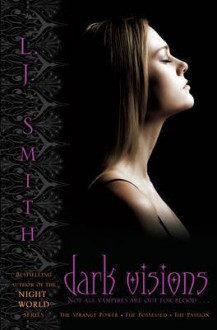 Dark Visions BIND-UP: The Strange Power, The Possessed, The Passion
ISBN:
9781847386823 (1847386822)
Publisher:
Simon & Schuster Childrens
Edition language:
English
Bookstores:
Keertana @ Ivy Book Bindings
rated it
8 years ago
All in all, I didn't quite enjoy this series as much as I thought I would. In my opinion, The Forbidden Game is a much more interesting, stronger, and tighter plot than that of Dark Visions, but Dark Visions still managed to be good. Smith's unique plot of a group of five psychics who needed to some...
The ending is Coai
rated it
8 years ago
I will never ever read another L.J. Smith book again.Shoot me if I do.
wrigglynn
rated it
9 years ago
A great read. Also the sole L.J. Smith book wherein the heroine actually ends up with the guy I like more, lol.
Joan3000
rated it
9 years ago
This book just has something that captured my eye immediately! I just couldn't put it down.It's been a while since I read this book, but I still remember I was once again about to take exams and I couldn't stop reading!I had a crash on Gabriel and I felt bad for Rob and it was just a big mess and I ...
Feelingfictional
rated it
9 years ago
Kaitlyn has always been considered an outsider at her school and is known as a witch because of her strange drawings. When she gets the urge to draw she never knows what she will produce but her pictures always give a warning about something that will happen in the future. When she is offered a pl...
Share this Book
http://booklikes.com/dark-visions-bind-up-the-strange-power-the-possessed-the-passion-l-j-smith/book,12383330