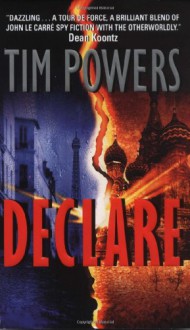 Declare
ISBN:
9781441757135 (1441757139)
Publish date:
January 1st 2011
Publisher:
Blackstone Audiobooks
Edition language:
English
Bookstores:
Saturdays in Books
rated it
8 years ago
Note: I have tried to write a review for this book like 6 times now, and even though I recognize that this is a very good book, I keep writing long rambling complaints about it. So I'm adding this note up front - I did like it, the 4 star rating isn't a mistake. Apparently, though, I only want to ta...
JonathanPeto
rated it
10 years ago
Where to begin? I should take a day off from work to write this one, but I can't.Just days ago I assumed I was going to give this book 3 stars. That reflected disappointment. The first couple hundred pages are... well, I guess the word is "slow". Many of the scenes held my interest but they did not ...
Book Trauma
rated it
11 years ago
This is my second Powers novel and I have to admit I'm hooked. This guy can write!I've never been a true fan of political thrillers or espionage but this one grabbed me from the start. I love that his heroes aren't he men in constant armed or unarmed combat. The lack of gory and graphic violence was...
willemite
rated it
18 years ago
I did not finish reading this 591 page paperback. The writer is making an interesting fusion, of cold war spy book and fantasy. He has Kim Philby, Nazis, Soviets in a world with genies arising from the desert. It was overwritten and finally, I was unable to suspend disbelief any further.
Share this Book
http://booklikes.com/declare-tim-powers/book,1017671