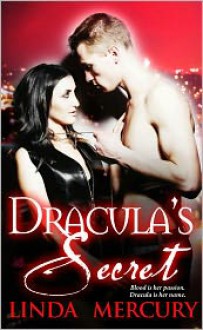 Dracula's Secret
Linda Mercury,NOOK Book (eBook),Series: Blood Wings, English-language edition,Pub by Kensington Publishing Corporation on 07-19-2012
Linda Mercury,NOOK Book (eBook),Series: Blood Wings, English-language edition,Pub by Kensington Publishing Corporation on 07-19-2012
show less
ISBN:
9781601830173 (1601830173)
Publisher:
Kensington Publishing Corporation
Edition language:
English
Bookstores:
carolesrandomlife
rated it
3 years ago
1/1/15 - Currently free on Amazon http://www.amazon.com/Draculas-Secret-Blood-Wings-Mercury-ebook/dp/B0083JC20G/?tag=skim0x3783-20
Fangs for the Fantasy
rated it
5 years ago
In the 15th century, Vlad II, Vlad Dracul, is struggling to keep his home, the unstable and war torn land of Wallachia safe – and part of that requires a second heir should his eldest son die. But his wife gives birth to a daughter and they face the harsh choice of exposing her to the elements – unt...
Ren's Little Corner
rated it
6 years ago
Dracula's Secret is Linda Mercury's novel debut. Its also from Kensington ebook line. The premise is intriguing. The famous Dracula, actually is woman. But, its failed in execution. Let me tell you why.This book have a gripping prologue. With Vlad II waiting for the birth of his second son, just to ...
Feelingfictional
rated it
6 years ago
I really don't like leaving a book unfinished but I was finding myself getting far too irritated by Dracula's Secret to continue reading. I loved the premise that Dracula isn't really a man called Vlad but is in fact a woman called Valerie who has spent her entire life keeping her gender a fiercely ...
Second Bookses
rated it
6 years ago
When I was offered the chance to read Linda Mercury's Dracula's Secret via NetGalley, I jumped at the chance. The premise was too tempting to resist: Dracula was actually born a woman and had posed as a man for centuries. Unfortunately, this book appears to be mostly premise and falls short on execu...
Share this Book
http://booklikes.com/dracula-s-secret-linda-mercury/book,12487902