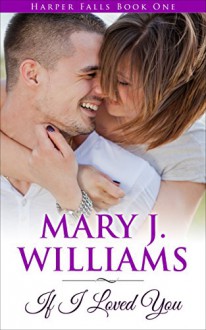 If I Loved You (Harper Falls Book 1)
Edition language:
English
Bookstores:
Arlena Has Read and Reviewed What Novels?
rated it
1 year ago
Title: If I Loved YouAuthor: Mary J. WilliamsPublisher: M. J. W. Series: Harper Falls, Book 1Reviewed By: Arlena DeanRating: FiveReview: "If I Loved You" by Mary J. Williams My Thoughts....I loved this sweet romantic novel that takes place in Harper Falls, Washington. If anyone needed love it was Ro...
WhiskeyintheJar Romance
rated it
2 years ago
3.3 starsThe pov abrupt changes threw me off a bit but this was a solid story with an adorable sweet hero. If you like Jill Shalvis (but with not as strong an editor) then this would be in your ballpark. It's an Indie, free on Kindle Unlimited and .99 for Kindle, definitely worth the asking price.Th...
Hopeless Romantic
rated it
2 years ago
Rose is a creative person. As a gifted songwriter, she has had a hand in penning many catchy tunes and some heartbreaking ones as well. What no one realizes is that her artistry allows her to purge emotions that she has kept buried inside. Her writing gives her the anonymity to vent in solitude b...
debjonesdiem
rated it
2 years ago
If I Loved You by Mary J. Williams is an amazingly good read. Ms Williams has delivered a well written book. I love the characters in this book, Ms Williams has created awesome characters in this book! Rose and Jack's story is peppered with drama, suspense, action and humor. If I Loved You held ...
emmaminazza
rated it
3 years ago
Won this in a giveaway (Thank you!) Just finished it, loved it! Hard to put down! Recently won book 2 in the series, cannot wait to read it! Would definately recommend this author! Will keep an eye out for future reads by Mary! X
Share this Book
http://booklikes.com/if-i-loved-you-harper-falls-book-1-mary-j-williams/book,13205315