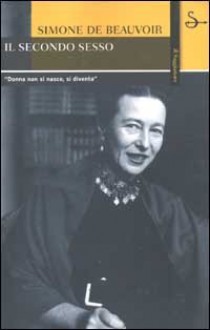 Il secondo sesso
ISBN:
9788842810940 (8842810940)
Publish date:
December 10th 2002
Edition language:
Italian
Bookstores:
Domhnall
rated it
8 months ago
This translation, by Constance Borde and Sheila Malovany-Chevalier, published in 2011, is the best of two available English translations from the original French and the alternative translation by H.M.Parshley in 1953 is a disgrace, which abridged, simplified and often mistranslated the original...
DOUBLE PARKED BOOKS
rated it
6 years ago
I am actually rereading it - this new version contains many parts of the book which were originally omitted because it might be too shocking for past readers.
Books are Alibis
rated it
6 years ago
FINALLY, I finished it. This book seemed to take forever and I'm so glad I finished it. I was pretty much skim reading it by the end of it.It was a really interesting book and that's why I gave it 4/5 stars. The writing was really good and I was really captivated in the subject. It seemed to ramble ...
Xalaila's book diary
rated it
7 years ago
Lo sentí lento y un poco pesado. Muchos datos atemporales y ejemplos extremistas. Fuera de eso, me hizo reflexionar mucho sobre las vidas de mi abuela, de mi mamá y la mía propia. Muchas cosas me hicieron click. Vale la pena leerlo, quizá en pequeñas dosis (¿un capítulo a la vez?)
KuntuZangmo
rated it
8 years ago
I read it when I was ten, just because it was on my mother's shelf, and of course at that age you find everything very thought-provoking, but I think I wouldn't like it now.Hm, don't remember right now how Adrian Mole liked it. =)
Share this Book
http://booklikes.com/il-secondo-sesso-simone-de-beauvoir/book,123774