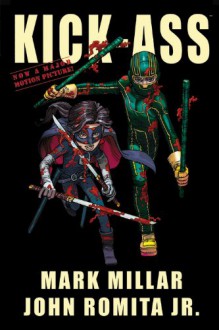 Kick-Ass
ISBN:
9780785141327 (0785141324)
Publish date:
October 2011
Edition language:
English
Series:
Kick-Ass : 1-8 (#1)
Bookstores:
sitiwajihah
rated it
5 years ago
Katie Deauxma is more realistic in this one. Different from the movie, but still really good. 2 stars off for misogynistic slurs (and use of the ultra homophobic f** word) throughout the entire book.
Ronyell (a.k.a Rabbitearsblog)
rated it
5 years ago
Genre: Superhero / Action / Adventure Year Published: 2008 Year Read: 2013 Series: Kick-Ass #1 Publisher: Icon Comics Introduction: Now, I will admit that I honestly have not heard about Mark Millar's famous series "Kick-Ass" until I heard about the movie that came out. Even though I have n...
everettpantaloons
rated it
5 years ago
"Why do people want to be Paris Hilton and nobody wants to be Spider-Man?"This is a question that a young, comic-loving Dave not only asks but acts on, eventually taking up the guise of the crime-fighting Kick-Ass. But he's no Spider-Man. No, no, no, far from it. In fact he's more Paris Hilton than ...
deborahmarkus7
rated it
5 years ago
The fact that the two children on the cover are covered in blood is almost fair warning -- as much as they could put on a picture everyone will see. This is one of the most graphic, grisly comics I've ever seen. I had to ask a friend if I'd been out of the comic scene so long that this was now the n...
From Dark Places
rated it
5 years ago
Kick-ass is the first graphic novel I've read from Mark Miller and it certainly won't be the last, the story flows majestically and the pace at times is frantic. Extremely violent, full of blood and gore with some spectacular kill shots amid a multitude of weaponry. The artwork is impressive, kick-a...