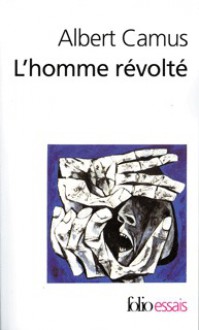 L'homme révolté
Format:
mass market paperback
ISBN:
9782070323029 (2070323021)
Publish date:
May 2nd 1985
Publisher:
Gallimard (Folio essais)
Bookstores:
Calyre
rated it
2 years ago
Se taire, c'est laisser croire qu'on ne juge et ne désire rien, et, dans certains cas, c'est ne désirer rien en effet.Mais on envie ce qu'on n'a pas, tandis que le révolté défend ce qu'il est.De cette observation, on ne peut déduire que ceci: la révolte est le fait de l'homme informé, qui possède la...
wealhtheow
rated it
9 years ago
I hated the Stranger, but found the Rebel rather easier to engage with. Perhaps it was the lack of faux-narrative. Perhaps I'm just older and wiser. There are sections here that read more like Wilde than philosophy--more focused on writing cute witticisms than exposing the truth of the world--but ...
Reading Adler's List
rated it
10 years ago
Thus the rebel can never find peace…His only virtue will lie in never yielding to the impulse to allow himself to be engulfed in the shadows that surround him and in obstinately dragging the chains of evil, with which he is bound, toward the light of good. pg. 285-286 Camus is far from a rigorou...
Manny Rayner's book reviews
rated it
13 years ago
Interesting book, though I also found it challenging to read. I don't know nearly enough about French literature or philosophy. But the basic question he asks is extremely relevant. We hate injustice, and intuitively it seems clearly right to revolt against unjust authority. So why does it nearly al...