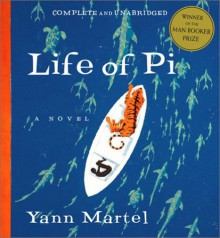 Life of Pi (Audiocd)
ISBN:
9781565117808 (1565117808)
Publish date:
January 9th 2003
Publisher:
HighBridge Company
Edition language:
English
Bookstores:
Living an Enriched Life
rated it
6 months ago
I have heard so many great things about empowering story within this book from my various friends from all over the world of different nationalities, that I couldn't wait to get my hands on it. And when I did finally get my hands on it, let's just say that I devoured the empowering story within this...
The better to see you, my dear
rated it
2 years ago
Defiantly funny in the face of total devastation, but more than that, ever hopeful. I guess that last is the best part of strong faith. The important part. Inner piece and enduring hope. Here's the deal: I'm an agnostic. We get roasted inside *grin*. I could go a long while about the difference be...
Cyfranek - Cyfrowe Czytanie
rated it
2 years ago
Tym razem najpierw oglądnąłem film, a później sięgnąłem po książkę. I wcale nie żałuję. Do tego wszystkiego, kończąc lekturę, jak raz trafiła się powtórka filmu w telewizji. Oglądnąłem więc go po raz kolejny. I wcale nie żałuję. Zarówno powieść jak i jej ekranizacja, są bardzo dobrymi opowieściami, ...
Linda78
rated it
3 years ago
DNF @ 20%. This is nothing but lectures on zoology, Hinduism and Christianity. Not that this stuff isn't interesting, but a book with a good story it does not make. The weird interjections of the guy talking about some other guy are, well, weird. Frankly, this book sounds like it wants to be mega su...
Burfobookalicious
rated it
3 years ago
'Life of Pi' made the World Book Night list for 2011 and rightly so. Martel has created a modern masterpiece, which is beautifully written. The storyline is unusual and all the more absorbing for it. The ending too is intriguing and though the movie interpretation is good, it can't do full justice t...