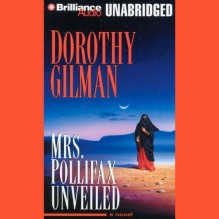 Mrs. Pollifax Unveiled
Publisher:
Brilliance Audio
Edition language:
English
Series:
Mrs Pollifax (#14)
Bookstores:
Gen's Shelves
rated it
2 years ago
Ouch. Read this once, and firmly determined to put it out of my memory and focus on the earlier, stronger books. Very much a faded carbon copy of the sparkle and charm of earlier books, with all the ongoing flaws brought strongly into the light accordingly. Do yourself a favor, and reread The Une...
Peregrinations
rated it
3 years ago
Mrs. P. Unveiled was published in 2000, before the events of 9/11/2011 completely changed the face of world politics. It takes place in Syria. Background players in the tale are the country's dictator Assad (father of the man in charge today) and the Muslim Brotherhood. As I listened, I just could n...
Barbara's Booky Blog
rated it
6 years ago
This is a cozy mystery series featuring an older (think senior citizen) lady who believe it or not, works for the CIA. Here latest adventure takes place in Syria where she is asked to discover if a kidnapped American, Amanda Pym is in fact still alive and being held captive by terrorists. Of course...
altheaann
rated it
8 years ago
Last one in the series... and I have a sad feeling that it will remain the last one. It was published in 2000, Gilman's most recent book was published in 2002, and she's 87. Sigh.Still, as with all of these, it was fun (and quick) to read. In this installment, Mrs. Pollifax is off to the Middle East...
Share this Book
http://booklikes.com/mrs-pollifax-unveiled-dorothy-gilman-sharon-williams/book,13565001