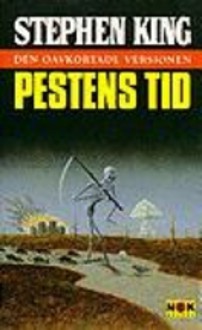 Pestens Tid, Den oavkortade versionen
Publish date:
March 1st 1995
Publisher:
Natur och Kultur
Edition language:
Swedish
Bookstores:
Wśród marzeń
rated it
6 months ago
Są książki, które szybko nam umykają. Są książki, przy których się nudzimy. Są książki, o których najlepiej szybko zapomnieć. Ale są też książki takie jak "Bastion". Po lekturze pozostają na długo w pamięci. Sprawiają, że zmienia się nasz światopogląd. Mogą być świetnym rozpoczęciem ciekawego tema...
Just Olga and her books
rated it
1 year ago
http://olganm9.booklikes.com
Just Olga and her books
4.5
Fire, Apocalypse and Pop-culture with a spoonful of sugar. Who are the really sick ones?
Thanks to Orion Publishing Group Gollancz and to Net Galley for providing me a free copy of this book in exchange for an unbiased review. I have read three books by Joe Hill before, enjoyed them and I was excited when I saw his new novel on offer at Net Galley. In short, the book offers a post-apoca...
Moonlit Pages
rated it
2 years ago
Jennifer's scorecard:5) Essential purchase4) Recommended purchase3) Recommended purchase during a sale 2) Not recommended unless heavily discounted and/or is being used as decor 1) Not even recommended as decoration.So it took me 7 weeks to read this book. It's massive but the number of pages wasn't...
LeseBlick
rated it
2 years ago
Inhaltsangabe In einem entvölkerten Amerika versucht eine Handvoll Überlebende die Zivilisation zu retten. Ihr Gegenspieler ist eine mythische Gestalt, die man den Dunklen Mann nennt, eine Verkörperung des absolut Bösen. In der Wüste Nevada kommt es zum Entscheidungskampf um das Schicksal der Mensch...
IntoTheMacabre
rated it
2 years ago
For many, The Stand needs no introduction. If you're a King fan, chances are you've already tackled this behemoth. Others seem to be intimidated by the sheer size of this monster and move on to his other stories that don't weigh as much a Buick. For those of you who may be trying to decide on whethe...