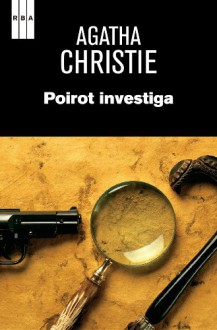 Poirot investiga (Spanish Edition)
Publish date:
July 23rd 2013
Edition language:
English
Series:
Hercule Poirot (#3)
Bookstores:
Obsidian Blue
rated it
1 year ago
I really thought this stories as a whole were way too short to get that engrossed in. I found most of them to be merely okay. There was only one that I thought was good. I did have to give it 3 stars though since we have Hastings as our narrator for all of the stories. I do miss Hastings when he is ...
Lillelara
rated it
1 year ago
It seems I´m not a big fan of Agatha Christie´s short stories, since they are utterly forgettable and at least two of them didn´t make sense and I couldn´t be bothered to read them again. The reason I give this collection a three star rating in the end is the witty banter relationsship between Poiro...
Farnaz
rated it
3 years ago
Das Buch besteht aus den folgenden Kurzkrimigeschichten.Die Augen der Gottheit Mary Marvell die bekannte Filmstar kommt zu Poirot, und erzählte, dass sie einen Brief erhielt, in dem es unterrichtet war, ihr berühmter Diamant der Western Star werde von einem chinesischer Bande gestohlen werden. E...
mybookjournal
rated it
3 years ago
The best thing about Poirot investigates is Hastings he is a funny guy makes me laugh all the time with his innocence or should I call it stupidity either ways it was a good read. Not to forget Poirot's gray cells and the way he mocks at Hastings.
JasonKoivu
rated it
5 years ago
Mon ami, ce sont des histoires agréables!Lovely stuff this! Poirot Investigates is a nice, compact selection of stories about cases quickly and concisely solved. No, not every story is a mind-boggler, though one or two went clear over my head, but for the most part I could follow these. Occasionally...
Share this Book
http://booklikes.com/poirot-investiga-spanish-edition-c-peraire-del-molino-agatha-christie/book,220008