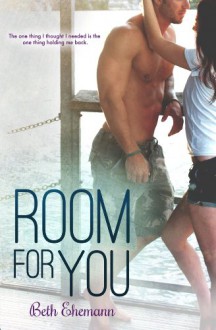 Room for You
Edition language:
English
Series:
Cranberry Inn (#1)
Bookstores:
My Own Bookshelves
rated it
4 years ago
Starting over is always hard. For Kacie, starting over with two adorable, yet mischievous twins means double the fun. Kacie lives with her Mom to get where she wants to be - a nurse and raise her girls independently. A sudden powerful storm blows in and creates a stir with her plans in the form o...
Meli Mel's Book Reviews
rated it
5 years ago
♥♥♥ 3.5 'I <3 Hockey Players' Stars ♥♥♥ ● ● ● ● ● ● ● ● ● ● ● ● ● ● ● ● ● ●"Life is a sum made up of small parts, Kacie. Some are good; some are bad. You and the girls are definitely one of the good. The best good ther is and I'll fight like hell to keep you here."● ● ● ● ● ● ...
Straight Shootin' Book Reviews
rated it
5 years ago
I don't really know how to rate this one and GR won't let me give 1/4 and 1/2 stars. Grrrr. If I'm going by my ratings on the blog, I'd say somewhere between a 3.5 and 3.75.I had to keep in mind that this was a NA novel and that they can get on my nerves easily. That being said, I enjoyed this one...
Tina's Book Blog
rated it
5 years ago
Four years ago, my dreams were shattered in an instant.I tried to pick up the pieces and glue them back together the best I knew how, but something was always missing.A father for my two girls.But then, Brody Murphy landed on my doorstep, literally. He was a carefree, playful hockey player who barge...