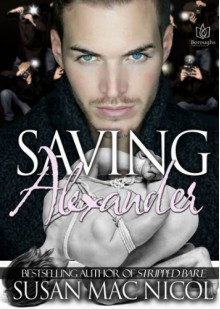 Saving Alexander
Publish date:
October 28th 2013
Publisher:
Boroughs Publishing Group
Edition language:
English
Bookstores:
Bitchie's Books
rated it
7 years ago
This was a tough one. Alex went through so much and has been punishing himself for years when he meets Sage, the actor in the TV series based on a book Alex wrote. The two men connect almost immediately, although Sage has a tough time dealing with mixed signals in the beginning. I liked seeing Alex'...
Debra E's Never-Ending TBR
rated it
7 years ago
I enjoyed this book with only a few minor issues. What I did appreciate, and so often don't see in books where there is some sort of BDSM as therapy/healing storyline, is that Alex is actually seeing a therapist to work on his issues and she is aware of his sessions and talks about them as part of ...
The Novel Approach Reviews
rated it
8 years ago
Working together on a daily basis, Sage and Alex develop a relationship that grows into more than either one of them expected. Susan Mac Nicol does an excellent job of deepening their relationship. She has funny moments, serious share-your-heart's-deepest-desires moments, angry moments and moments o...
Nic Starr
rated it
8 years ago
Make sure you check out the book trailer and also check out my review. I publish all my m/m reviews on my blog so if you want to see all my m/m reviews in one place come visit at Because Two Men Are Better Than One!
SheReadsALot...seriously.
rated it
8 years ago
Who is down to read this?You know that's right! Me!