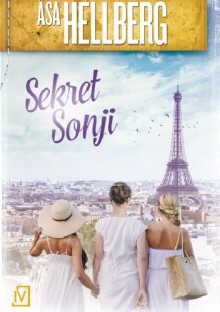 "Sekret Sonji" jest drugą odsłoną losów przyjaciółek, których historię Asa Hellberg zapoczątkowała w swoim debiucie literackim z roku 2014 noszącym tytuł "Ostatnia wola Sonji".

Jak już wspomniałam w drugim tomie śledzimy dalsze perypetie Susanne, Rebecki i Maggan. Gdy ta ostatnia w hołdzie dla Sonji, od której przecież wszystko się zaczęło, postanawia spisać historię jej życia do powieści wkraczają nowe postacie. Są nimi dziennikarka Kicki i fotograf Fredrik, mają oni za zadanie uzupełnienie "białych plam" w życiorysie pani Gustavsson, a takich jest niestety dosyć sporo… Niestety całą sytuację komplikuje fakt, iż Kicki i Fredrik byli kiedyś parą – pomimo upływu czasu i różnych kolei losu tych dwoje nadal coś do siebie ciągnie lecz za nic w świecie nie chcą się do tego przyznać. Jednakże obowiązki zawodowe powodują, iż wspomniana dwójka wyrusza w fascynującą i pełną niespodzianek podróż po Europie, by dzięki temu książka o Sonji mogła się ukazać.

Tymczasem to nie jedyni nowi bohaterowie jakich poznajemy…. Autorka przedstawia nam także spontaniczną, energiczną, wesołą i bezkompromisową Julie, która właśnie zaczyna swoją przygodę z romantycznym Paryżem i jak się okazuje nie tylko… ale o tym dowiecie się więcej sięgając po książkę.

W "Sekrecie Sonji" jak wskazuje na to sam tytuł autorka nie szczędzi nam tajemnic i skomplikowanych losów bohaterów. Wykreowane przez nią postacie mają bardzo różnorodne charaktery, a w swoich życiorysach niemały bagaż doświadczeń.

Powieść ta napisana jest bardzo przystępnym, a jednocześnie barwnym językiem, co sprawia, że czyta się ja bardzo przyjemnie, płynnie i szybko.
Jest to opowieść o prawdziwej przyjaźni, różnych obliczach miłości, a także o bardzo zróżnicowanych zachowaniach człowieka w obliczu choroby.
Traktuje ona również o tym, że każdy z nas ma swoje, mniejsze lub większe, tajemnice, które jeśli w jakiś sposób wyjdą na jaw są sporym zaskoczeniem dla naszego otoczenia.

Jeśli macie więc ochotę dokładniej zapoznać się z losami bohaterów "Sekretu Sonji", a także pozwiedzać wiele urokliwych zakątków Europy stopniowo rozwikłując po drodze zawarte w opowieści zagadki i niejasności to ta książka będzie dla Was doskonałą odskocznią od codziennych zajęć.

Za udostępnienie egzemplarza do recenzji dziękuję Wydawnictwu Czwarta Strona.
* https://www.facebook.com/Ksiazkowoczyta *
http://ksiazkowoczyta.blogspot.com/2016/01/tajemnice-i-puapki-naszego-zycia-budza.html