I don't know what to say. This was a perfect inoffensive and bland book. Even the sex scenes were bland and usually James can write a pretty good one. I just didn't think the two leads were that interesting past their prior relationships. I really think if James had circled back to their prior relationships and actually speak on female and male dynamics when one is cheated on, it would have made for a stronger book.
So the male hero in this one is John Shepherd. Picture Chris Hemsworth in a FBI uniform.
And the female heroine is Jessica Harlow. Picture Reese Witherspoon. Yeah, picture her.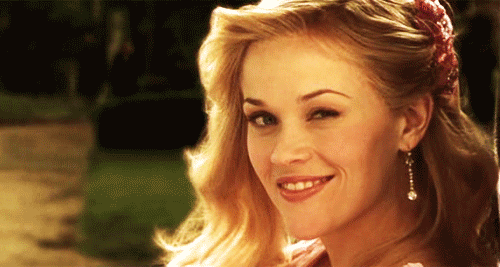 Both of them are reeling for the end of their prior relationships and both are aiming to succeed at the FBI. Jessica has transferred from LA back to her hometown in Chicago. And John is hoping he gets the call soon that will land him a coveted spot on the FBI's Hostage Rescue Team.
We quickly find out that both characters have thought of the other person over the years. They met 6 years previously when they were going through their training at Quantico. They are both dismayed when they find out they are partnered on a bribery case that will take them to Florida.
Honestly, there's not much to say about either character. The development of both characters was very thin. I was intrigued with John and Jessica's background and former relationships with their exes. I also think that John's storyline would have been improved if James had circled back to his rift with his long time friends. Instead as you read you can practically check the boxes cause you know what is coming your way.
Two characters will have initial animosity but keep noting how attractive the other person is (Blue-when this happens to me in real life I don't think about how hot the guy is, I think about how I can just stab him in the neck with a pen and roll his dead body under his desk).
They will both admit they handled things poorly in the past and look to become friends (Blue-I am always right. Forget that noise.)
They will then start to flirt and talk things that would get you an HR complaint in the real world (Blue-I have told several men over the years that I am not interested and no we are not going to discuss my sex life. Dear everyone, don't ask a man or woman about things like this at work. Otherwise you will find yourself at HR talking about how you were just making a joke.)
Eventually they will give in and have wild passionate sex (Blue-Please. I have read hotter sex scenes in my mom's bodice rippers back in the day).
They will both start inner monologuing about love and falling for the other person (Blue-This is why rom-coms drive me up the wall. I had a guy talking to me about him thinking he was falling for me. This was after 2 dates. Don't do this.)
Something will come up to keep them apart. (Blue-Whatever.)
One or both of them will give up something so they can be together (Blue-See above).
I have for the most part generally liked the other books in this series. I just found this one to be rather ho-hum. A good way to past the time, but nothing that I would re-read in the future.