Hello and welcome everyone to April. We are so much closer to Summer :D
I always hope to get more reading in Summer with the kids home but that never happens. So this year I'm not even hoping and just see how it goes lol.
But we still have a while anyway.
March was busy reading wise, I got a lot more done than I reviewed .... so far. I'm a bit behind on reviews, but what else is new lol .
Though I got a lot of my review copies done which was my main goal, but just as I got them done I received a few more. So, I'm back to square one when it comes to review copies lol. But that is okay.
Here are some of releases to look forward to in April
Defy Me by Tahereh Mafi
Gimme Some Sugar by Molly Harper
The Savior by J.R. Ward
The Red Scrolls of Magic by Cassandra Clare and Wesley Chu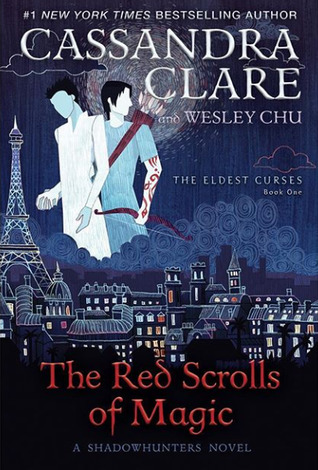 Little Darlings by Melanie Golding
I just finished Crimson Lake by Candice Fox yesterday.
How do you move on when the world won't let you?
12:46: Claire Bingley stands alone at a bus stop 12:47: Ted Conkaffey parks his car beside her 12:52: The girl is missing . . .
Six minutes in the wrong place at the wrong time—that's all it took to ruin Sydney detective Ted Conkaffey's life. Accused but not convicted of a brutal abduction,Ted is now a free man—and public enemy number one. Maintaining his innocence, he flees north to keep a low profile amidst the steamy, croc-infested wetlands of Crimson Lake.
There, Ted's lawyer introduces him to eccentric private investigator Amanda Pharrell, herself a convicted murderer. Not entirely convinced Amanda is a cold-blooded killer, Ted agrees to help with her investigation, a case full of deception and obsession, while secretly digging into her troubled past. The residents of Crimson Lake are watching the pair's every move... and the town offers no place to hide.
So hopefully today I will start Redemption Point by Candice Fox, which I both received through BookishFirst .
#1 New York Times bestselling author Candice Fox delivers a compulsive new crime thriller in Redemption Point.
When former police detective Ted Conkaffey was wrongly accused of abducting Claire Bingley, he hoped the Queensland rainforest town of Crimson Lake would be a good place to disappear. But nowhere is safe from Claire's devastated father.
Dale Bingley has a brutal revenge plan all worked out - and if Ted doesn't help find the real abductor, he'll be its first casualty.
Meanwhile, in a dark roadside hovel called the Barking Frog Inn, the bodies of two young bartenders lie on the beer-sodden floor. It's Detective Inspector Pip Sweeney's first homicide investigation - complicated by the arrival of private detective Amanda Pharrell to 'assist' on the case. Amanda's conviction for murder a decade ago has left her with some odd behavioural traits, top-to-toe tatts - and a keen eye for killers . . .
For Ted and Amanda, the hunt for the truth will draw them into a violent dance with evil. Redemption is certainly on the cards - but it may well cost them their lives ...
On audio I'm also listing to Storm Front by Jim Butcher. I'm so mad at myself that I have not started this series before. But oh well, at least now I have many great books ahead of me lol. I should be done with this today, if all goes well.
HARRY DRESDEN — WIZARD
Lost Items Found. Paranormal Investigations. Consulting. Advice. Reasonable Rates. No Love Potions, Endless Purses, or Other Entertainment.
Harry Dresden is the best at what he does. Well, technically, he's the only at what he does. So when the Chicago P.D. has a case that transcends mortal creativity or capability, they come to him for answers. For the "everyday" world is actually full of strange and magical things—and most don't play well with humans. That's where Harry comes in. Takes a wizard to catch a—well, whatever. There's just one problem. Business, to put it mildly, stinks.
So when the police bring him in to consult on a grisly double murder committed with black magic, Harry's seeing dollar signs. But where there's black magic, there's a black mage behind it. And now that mage knows Harry's name. And that's when things start to get interesting.
Magic - it can get a guy killed.
When I'm with Redemption Point I'm planning to start Storm Cursed by Patricia Briggs
In this new instalment in the No. 1 New York Times bestselling series, Mercy Thompson must face a deadly enemy to defend all she loves . . .
My name is Mercedes Athena Thompson Hauptman, and I am a car mechanic.
And a coyote shapeshifter . . . And the mate of the Alpha of the Columbia Basin werewolf pack.
Even so, none of that would have gotten me into trouble if, a few months ago, I hadn't stood upon a bridge and taken responsibility for the safety of the citizens who lived in our territory. It seemed like the thing to do at the time. It should have only involved hunting down killer goblins, zombie goats, and an occasional troll. Instead, our home was viewed as neutral ground, a place where humans would feel safe to come and treat with the fae.
The reality is that nothing and no one is safe. As generals and politicians face off with the Gray Lords of the fae, a storm is coming and her name is Death.
But we are pack, and we have given our word. We will die to keep it.
I will have a new giveaway going live sometime this month. So be on the lookout for that ;) As always all the buy links for the books will be in the reviews that are linked. I hope everyone will have a fantastic April.
Here are my March reads :)
---
Hall of Souls & the Book of the Fairies by M.D. Fryson
In a panic, the spirit guides seek an ally with the Fairy Queen who has her own agenda. With empty promises and tricks Meridian, her father and her best friend Relic go to the witch city of Salem in search of the Fairy Quartz on Halloween kept by a local witch coven in Salem. The last but most dangerous quest is the voyage to the dark realm alongside the fallen spirit guide Talon. There Meridian must answer the demon's riddle, save her best friend and escape the demon realm. With the help of a once spirit guide cast away as a fallen, she finds an ironic refuge in his help and escapes with the Fairy Book only to see through the fairy tricks.
With her own love triangle surrounding her as she endures her quests for their existence, she finds herself pulling from her best friend Relic who is in love with her and hanging onto Kieren her new crush who is in a Fairy induced slumber. She can't quite let her thoughts steer away from the human boy, Aiden who she discovers is the son of the very fallen spirit guide accompanies her on her journey.
With the council trial and Warrick's undoubted hatred, Meridian is stifled by sadness for her father after he is cast in the hall of souls. She flees for Earth in search for Aiden breaking Warrick's law at the cost of being cast to Earth as a demon. Warrick's curse takes an unexpected turn when Meridian isn't quite what he intended for her to emerge as. With the off-chance encounter with Aiden after months of his absence and her new identity she is faced with her curse and her desire to be with Aiden.
4 ★
---
Little Darlings by Melanie Golding
"Mother knows best" takes on a sinister new meaning in this unsettling thriller perfect for fans of Neil Gaiman and Grimms' Fairy Tales.
Everyone says Lauren Tranter is exhausted, that she needs rest. And they're right; with newborn twins, Morgan and Riley, she's never been more tired in her life. But she knows what she saw: that night, in her hospital room, a woman tried to take her babies and replace them with her own…creatures. Yet when the police arrived, they saw no one. Everyone, from her doctor to her husband, thinks she's imagining things.
A month passes. And one bright summer morning, the babies disappear from Lauren's side in a park. But when they're found, something is different about them. The infants look like Morgan and Riley―to everyone else. But to Lauren, something is off. As everyone around her celebrates their return, Lauren begins to scream, These are not my babies.
Determined to bring her true infant sons home, Lauren will risk the unthinkable. But if she's wrong about what she saw…she'll be making the biggest mistake of her life.
Compulsive, creepy, and inspired by some our darkest fairy tales, Little Darlings will have you checking―and rechecking―your own little ones. Just to be sure. Just to be safe.
4 ★
---
The Everlasting Rose by Dhonielle Clayton
In this sequel to the instant New York Times bestseller, Camille, her sister Edel, and her guard and new love Remy must race against time to find Princess Charlotte. Sophia's Imperial forces will stop at nothing to keep the rebels from returning Charlotte to the castle and her rightful place as queen. With the help of an underground resistance movement called The Iron Ladies-a society that rejects beauty treatments entirely-and the backing of alternative newspaper The Spider's Web, Camille uses her powers, her connections and her cunning to outwit her greatest nemesis, Sophia, and restore peace to Orleans.
4 ★
---
The Wedding Deal by Cindi Madsen
Former quarterback Lance Quaid just inherited the most losing team in the NFL. He's got only a few weeks until draft day to turn things around, and after firing more than half his staff, he can't do it alone. Thankfully, his HR manager is more than capable, if only she'd stop focusing on "due diligence" and stop looking so sexy while she's yelling at him.
Charlotte James has made a life out of following the rules. But nothing could have prepared her for Lance Quaid––he's a human resources nightmare. The man is brash, has no filter, and, as her new boss, is constantly relying on her to cover his ass. Which is admittedly quite nice.
When Lance begs her to join him on a trip down the coast for his brother's wedding so they can finalize details––on a strictly business basis––she agrees…after they fill out the necessary forms, of course. Away from the office, though, sparks start flying as the team starts coming together. But both of them know anything more than the weekend would be a colossally bad idea––after all, the extra paperwork would be a nightmare.
5★
---
Almost Home by Valerie Fraser Luesse
With America's entrance into the Second World War, the town of Blackberry Springs, Alabama, has exploded virtually overnight. Workers from all over are coming south for jobs in Uncle Sam's munitions plants–and they're bringing their pasts with them, right into Dolly Chandler's grand but fading family home turned boardinghouse.
An estranged young couple from the Midwest, unemployed professors from Chicago, a widower from Mississippi, a shattered young veteran struggling to heal from the war–they're all hoping Dolly's house will help them find their way back to the lives they left behind. But the house has a past of its own.
When tragedy strikes, Dolly's only hope will be the circle of friends under her roof and their ability to discover the truth about what happened to a young bride who lived there a century before.
Award-winning and bestselling author Valerie Fraser Luesse breathes life into a cast of unforgettable characters in this complex and compassionate story of hurt and healing.
3.5★
---