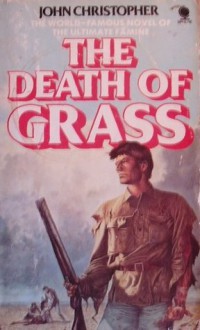 The Death of Grass (Sphere Popular Classics)
ISBN:
9780722122976 (0722122977)
Edition language:
English
Bookstores:
Noel's Blog
rated it
7 years ago
In The Death of Grass by John Christopher, a virus kills all grasses plunging the world into famine and chaos. It is a darker work than Day of the Trifids because the protagonists' enemy is well pretty much everyone else who is struggling to survive. There is no general incapacity inflicting the pop...
Farnaz
rated it
10 years ago
A deadly virus, Chung Li, envelops over the world. Its role is not to kill humans directly by causing diseases, but rather to infect and destroy crops of wheat, rice, potato and other edible plantations of food. It causes global starvation. What's more, suddenly the turn came for meat. Hundred thous...
Mój blog
rated it
11 years ago
Śmierć traw przypomina mi do pewnego stopnia Dzień tryfidów Johna Wydhama. Tutaj też ludzkość musi zmierzyć się z naciągającą zagładą. W Śmierci traw jest nią powszechny głód. Miasta wyludniają się, ludzie wyruszają w poszukiwaniu żywności. Na drogach robi się tłoczno i bardzo niebezpiecznie. Gdzieś...
Julian Meynell's Books
rated it
11 years ago
An apocalyptic novel as opposed to a post-apocalyptic novel. The disintegration into barbarism goes to fast. The concerns of the novel are essentially the same as Golding's Lord of the Flies and the novels were written about the same time. However, unlike Lord of the Flies the disintegration happ...
thomcat
rated it
11 years ago
A stark book, but then that's the theme. Told from the perspective of one man, the possibility of this tale is very close to reality. I had an alternate solution for the ending, which arrived a little too quickly. Still and all, a good read.