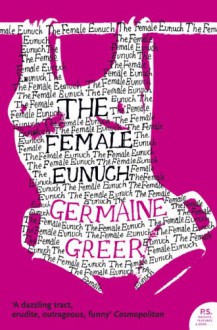 The Female Eunuch
ISBN:
9780007205011 (0007205015)
Publish date:
May 15th 2006
Publisher:
Harper Perennial
Edition language:
English
Bookstores:
XOX
rated it
3 years ago
So even seemingly thinking person could get it wrong. Germaine Greer was wrong about Princess Diana, and she is wrong about transgender women. She has become irrelevant and by attacking normal person, she made it to the newspaper. Big.Fucking. Deal. I would not read any of her books any mor...
shell pebble
rated it
6 years ago
Greer cuts through our absurdly patriarchal fantasies of romantic love, diagnosing the misery and anxiety they cause, and draws a picture of the female stereotype as castrated - a a passive receptacle for male sexuality. She also implicates capitalism in shaping and reinforcing patriarchy, with some...
madbkwm
rated it
7 years ago
I apologize in advance for the length of this review. As a pivotal sociological/feminist work, I felt it was incumbent upon me to be thorough. Overall, I found the work to be about 1/3 spot on; about 1/3 very dated; and 1/3 to be questionable in its argument. Of course, I have the benefit of hind...
Chris' Fish Place
rated it
8 years ago
Perhaps some of this is dated, but other parts are not - this is particularly true about the chapter on language as well as the chapters about violence.It's nice reading this after reading her Shakespeare's Wife. You can see the connections.
CrowdedMinds a.k.a. Rita
rated it
9 years ago
I fear that readers who call this book "outdated" have failed to see the bigger picture: it was written more than 40 years ago in a time where the situation of women's (and men's too for that matter) rights was very different to what it is today; and it is in that light that this book should be see...
Share this Book
http://booklikes.com/the-female-eunuch-germaine-greer/book,698855