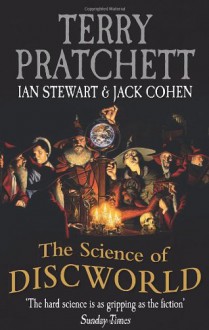 The Science of Discworld
ISBN:
9780091951702 (0091951704)
Publish date:
April 11th 2013
Edition language:
English
Series:
Science of Discworld (#1)
Bookstores:
BrokenTune
rated it
1 day ago
"Ook?" I usually try to start my reviews with a pertinent quote from the relevant book, but I was somewhat eager to return my copy to the library and I forgot to copy out a quotation for my review. However, it is somewhat appropriate to start the summary of my thoughts about The Science of Discworl...
Murder by Death
rated it
2 days ago
This book. I'm shaking my head over this book. It boils down to three things: The Discworld portion of the book, involving the Unseen University, is excellent; 4 stars. Pratchett's writing is always good, even when it's average for him, and the UU storyline doesn't disappoint. I loved the ver...
Elentarri's Book Blog
rated it
1 week ago
TITLE: The Science of Discworld AUTHOR: Terry Pratchett, Ian Stewart & Jack Cohen PUBLICATION DATE: Revised edition published in 2002 FORMAT: Paperback ISBN-13: 9780091886578 ____________________________________ From the blurb: "When a wizardly experiment goes adrift, the wizards of ...
YouKneeK
rated it
11 months ago
The Science of Discworld is an odd sort of Discworld book. Based on the name, I had thought it was going to delve into more detail about the fictional workings of the Discworld. Like, say, how the giant turtle and the elephants stay alive outside of an atmosphere or how water on the Discworld gets...
Angel's Book Reviews 2.0
rated it
3 years ago
For some reason, I was under the impression that this book was a collection of short stories set on Discworld. I'm not sure why I thought that.While it's definitely not what I expected (duh), it was a very enjoyable read. I love Pratchett's way of reading, he can make anything interesting. And, bein...
Share this Book
http://booklikes.com/the-science-of-discworld-terry-pratchett-jack-cohen-ian-stewart/book,1092083