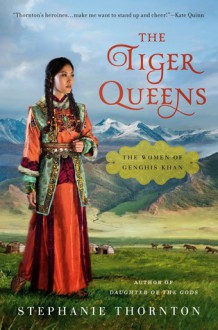 The Tiger Queens
Edition language:
English
Bookstores:
Jocelyn (The Reading World)
rated it
3 years ago
I'm sure no book quite like this has ever been written before. "I still carry the curse I once warned you of," [Borte] finally said. "Would you bring a storm of death onto the steppes?"Temujin shrugged. "My strength in battle has already been tested. With you as my wife I will become a great and po...
Sorry kids, no feet.
rated it
4 years ago
Originally I had this book rated at four stars but the more I thought about it, I had to come back and give the book the extra star. I know little about the reign of Genghis Khan. I know he wasn't the friendliest guy in the world and there's a good chance I'm related to him. He knew how to ride a ho...
richardabbott
rated it
4 years ago
Tiger Queens describes the lives of several of the women intimately involved with the early years of the Mongol empire, beginning with Borte Khatun, chief wife of Genghis Khan. It is a long book, but Stephanie has - wisely, in my view - chosen to keep it as a single volume rather than divide it into...
Manga Maniac Cafe
rated it
4 years ago
ok, I made it halfway, but the book isn't holding my attention. I don't like Alaqai and that is just bogging me down. Time to move on to something else.
Passionate about Books!
rated it
5 years ago
I have been a fan of this author ever since her first book, A Secret History: A Novel of Empress Theodora, and while books set in ancient Rome are my absolute favorite, I was really looking forward to learning about a time in history of which I know little about and I was not disappointed. Stephanie...
Share this Book
http://booklikes.com/the-tiger-queens-stephanie-thornton/book,12025043