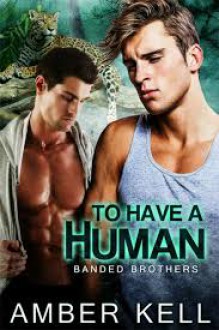 To Have a Human
ISBN:
9781771113984 (1771113987)
Publish date:
December 1st 2012
Edition language:
English
Series:
Banded Brothers (#1)
Bookstores:
Everything book related
rated it
3 years ago
Well it is what is expected from most short books in this genre. Shifter meets mate, and claims him after a lot of growling "mine" and sex. That plus serious editing problems, from incomprehensible and meaningless phrases which are probably left overs from sloppy copy and pastes to incomplete or mi...
The View Through the Looking Glass
rated it
7 years ago
This was a great beginning to a new series.I'm a huge fan of Amber Kell's writing. She tends to be able to pack a lot of plot into short stories and this one was no exception. While there is a lot of "typical" shifter trope going through the story the one thing that I feel sets it apart and made m...
Nikyta *Miss Forgetful*
rated it
7 years ago
This was a cute, fast read. I really liked that it was a bit different than other shifter stories because of the whole human alpha thing.I liked Carey especially since he was such a badass. The fact that he wasn't a whimpering human who got himself kidnapped was a plus for me. Broden, a jaguar shift...
JustJen
rated it
7 years ago
What a refreshing change of pace this story is. Carey is an incredibly strong and capable human brought up by his Special Forces father among various shifters. He is the leader of his pack of misfit animal shifters, including a bear, an eagle and a crocodile. They have been all been friends since...
Candice
rated it
7 years ago
This was a quick fun read. I really enjoyed this little group of friends with the leader being human, a croc shifter, bear shifter and eagle shifter. Some people will probably read and roll their eyes at the whole set up of this story, but it is quirky and kinda funny. I look forward to the next ...
Share this Book
http://booklikes.com/to-have-a-human-amber-kell/book,9656927