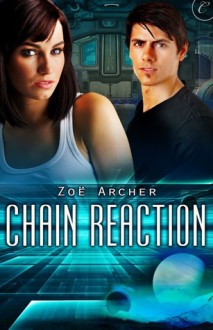 Chain Reaction (8th Wing, #2)
Bookstores:
Rachel's books
rated it





8 years ago
This is the second book by Zoe Archer that I've read and really, really liked. Excellent sci-fi romance. Good pacing, plot, and characters.
Wit and Sin
rated it





9 years ago
Review originally posted on Wit and Sin: http://witandsin.blogspot.com/2012/05/review-chain-reaction-by-zoe-archer.htmlLieutenant Celine Jur is a legend even among her fellow Black Wraith pilots. But even legends can be captured and Celine was only recently rescued from captivity after a device dis...
e_bookpushers
rated it





9 years ago
Really enjoyed this. I can't wait for the next. Unlike one of my fellow pushers I liked the heroine :).
The Romanceaholic
rated it





10 years ago
This is a Quickie Review. For the full review, please visit The Romanceaholic.Expected Release Date: January 9, 2012 (Available Now!)Publisher: HarlequinImprint: Carina PressAuthor's Website: http://www.zoearcherbooks.comMy Source for This Book: NetgalleyPart of a Series: Yes, Book 2, 8th Wing Serie...
karenf
rated it





10 years ago
I really enjoy these 8th Wing novellas by Zoe Archer. I think this one is best enjoyed if you've already read the first one, Collision Course, since Celine's character was developed at bit in that one. I loved Nils, because I love a good geek hero who can kick some butt if required. Due to the sh...