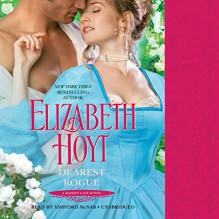 Dearest Rogue (Maiden Lane Series, Book 8) by Elizabeth Hoyt (2015-05-26)
Publisher:
Hachette Audio and Blackstone Audio
Edition language:
English
Bookstores:
bookjunkie57
rated it





5 years ago
The Characters: Lady Phoebe BattenCaptain James Trevillion The Story: I've always loved Phoebe and I'm glad she is giving James a run for his money. Trevillion's family is quite interesting. The Random Thoughts: 4 Stars
Rendezvous With A Romance
rated it





5 years ago
I looked forward to Phoebe and Jame's story; Captain Tremaine from the get-go was an interesting character, and when I found out that he was going to be Phoebe's guard after his injury, I looked forward to seeing the strict, no-nonsense Captain finds something to cause him to lose that control. Pho...
Dawn772
rated it





6 years ago
A good historical romance where both main characters had a disability. I liked the way the story showed them coping with blindness and a lame leg. It more than compensated for a few frequently used plot lines. Lady Phoebe's brother, a Duke, hires retired Dragoon Captain James to protect her.
Sheila's Reads
rated it





6 years ago
Phoebe is blind so her brother, Wakefield, hires a bodyguard for her. When Phoebe is kidnapped, Trevillion rescues her and puts her in a place where no one, including her brother can find her. I liked these characters. Though both are disabled, it does not stop them from living life. Nor does it sto...
Punya Reviews...
rated it





6 years ago
My review contains spoilers and they're mostly my thoughts as I went with the book... Okay, is it only me? I'm increasingly having this feeling that the Maiden Lane books are becoming shorter by installment. Yes, I'm a little bit unhappy about it, only because I'm such a fan of the series that I end...
Share this Book
http://booklikes.com/dearest-rogue-maiden-lane-series-book-8-by-elizabeth-hoyt-2015-05-26-elizab/book,13718120