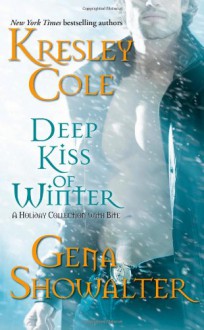 Deep Kiss of Winter ( Immortals After Dark #8; Alien Huntress #4.5 )
Format:
mass market paperback
ISBN:
9781451600056 (1451600054)
Publish date:
December 28th 2010
Edition language:
English
Series:
Immortals After Dark (#8)
Bookstores:
Amara Lebel
rated it





6 years ago
3.5 StarsThis story was somewhat similar to previous installments, and if I were to be honest I was a little disappointed that Murdoch wasn't the lady-killer I thought him to be. However, it was still enjoyable. Short and sweet, yet packed with enough action and emotional turmoil to make it a hit wi...
Just One More Chapter
rated it





6 years ago
This wasn't my favorite book in this series so far but, it was still really good & hot! I'll tell ya one thing, I'll never look at an icicle in the same way ever again! Lol
DemonessTenebrae
rated it





7 years ago
"I'm the Valkyrie who most wants to be held - and I never can be.- At the thought she felt her bottom lip trembling.- I'd rather not have had a glimpse of what I've been missing. She dropped her head into her hands and wept, her freezing tears making her want to scream." The fourth and the l...
D.G. ~Shameless Reader~
rated it





8 years ago
What a bounty of cheesy goodness!Everybody and their dog knows I listen to this series because I like the narration. As usual, Robert Petkoff was all out and I love him for it! I just wish the plot would make the narration justice.The plot in this book differed from the rest of the series - instead ...
I, the booklover
rated it





8 years ago
Untouchable, Kresley Cole - 4 stars I loved this story. I have been waiting so long to read about Murdoch. His and Danii's love story was so amazing and so original. Kresley Cole has an amazing imagination and that is noticeable in all her IAD books. I am in love with this world. It was also good to...