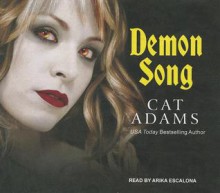 Demon Song
ISBN:
9781452637570 (1452637571)
Publish date:
June 4th 2012
Edition language:
English
Series:
Blood Singer (#3)
Bookstores:
The Layaway Dragon
rated it





5 years ago
After two books that wavered between "Meh, could've been better" and **disappointed sigh**, I only started reading Demon Song because it was the book I had on hand. Work was dead and I finished everything with half and hour left of my shift. Made it 32 pages before I clocked out. I don't see picking...
lostinadream
rated it





8 years ago
HOLY HELL!!!!If I thought the last book was good, then this one is great. Dimensional rifts, Atlantis, more incrediable triangle, DAMN CREEDE IS DELICIOUSwow, this series has just gotten incrediable
Rachel's books
rated it





9 years ago
Great cast of characters, lots (and I mean lots) going on! Celia loses people close to her, makes new friends, and the love triangle is a go. Not crazy about those, but in this book it works. FYI- book ends on a mild cliffhanger- but it's not one of those "OMG!!" moments.
sj
rated it





10 years ago
So, better than the first, but there were new things to annoy me in this one.For some reason, every time something should have been italicized, it was instead in "quotes." I find this "incredibly" annoying. I "almost" stopped reading. It was "that bad."Was it just my ecopy? I have no idea. It "...
Contagious Reads
rated it





10 years ago
I have to say by the 3rd book this series grew on me. I actually cared about what happened to the characters. I was pleasantly surprised. It helps that Celia was way less annoying in this book.
Share this Book
http://booklikes.com/demon-song-cat-adams-arika-escalona/book,6423765