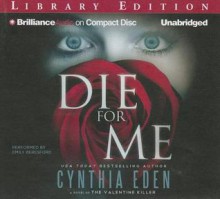 Die For Me: A Novel of the Valentine Killer
ISBN:
9781469289656 (1469289652)
Publish date:
February 12th 2013
Publisher:
Brilliance Audio
Edition language:
English
Bookstores:
Lyndi
rated it





5 years ago
Couldn't put it down!
Blue Mood Cafe
rated it





7 years ago
It's been three years since the Boston Valentine Killer was last heard from, now suspected to be dead....until similar murders happen in New Orleans. Valentine's fiancée, Katherine Cole, just happens to be living there under a new identity. When she walks into the police department to offer assistan...
Aly's Miscellany
rated it





8 years ago
The killer was really fucked up!
Blaise's Book Reviews
rated it





8 years ago
This book was full of alot of suprising twists and turns that kept me guessing and on the edge of my seat impatient to read more. We get to see things from a few different characters views and it just makes the book more intriging and spellbinding without giving everything away and sometimes explain...
Reading Under the Willow Tree
rated it





8 years ago
So, I am not going to lie to you, this book is a little bit silly. It is scratch the paper small the cheese kinda silly. It was a little cliched, it moved at the speed of a freight train and I am not sure I got everything. It tried to be very smart and sometimes is fell flat on its face.NBUT, someti...
Share this Book
http://booklikes.com/die-for-me-a-novel-of-the-valentine-killer-cynthia-eden-emily-beresford/book,9640211