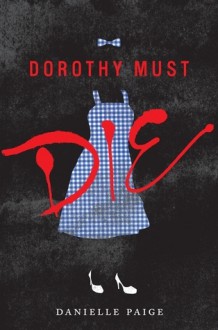 Dorothy Must Die (Dorothy Must Die #1)
Publish date:
April 1st 2014
Edition language:
English
Series:
Dorothy Must Die 0.5 (#1)
Bookstores:
Bookish Blerd
rated it





3 years ago
Let's start with, lately I have seriously had a knack for picking stories told in first person...which I hate. This was an interesting enough story that it was pretty easy to ignore. This book was dark, very dark and a teeny bit gruesome. Amy is a teenager from Kansas. She lives in a trailer, h...
Irresponsible Reader
rated it





5 years ago
So, imagine a world where Baum's books (and that movie) are present and beloved -- but also, are non-fiction (not that anyone who isn't from our world gets that). I think that made sense. Anyway...in modern-day Kansas, there's a girl, Amy Gumm, who isn't having the best time. Her mother lives (well,...
Biblio Mania Reads
rated it





5 years ago
Let me start off by saying: If there were more than 5 stars to rate this book, I would rate it 10 out of 10 stars. First, the cover is amazing to look at. The word "DIE" across Dorothy's dress made me want to read it even more. The concept of the book is STUNNNING. The only downside I have about thi...
Spooky Reading
rated it





6 years ago
This book was a crazy ride of twists and turns. Paige's alternative Land of Oz is truly one that comes from nightmares. The nice and sweet Dorothy, the girl from Kansas, is back in Oz but now she wants all the magic that Oz has to offer. Amy Gumm is not your typical girl from Kansas with pink hair a...
LulzCat Reviews
rated it





6 years ago
DNF 24%I love OZ but this was not for me.