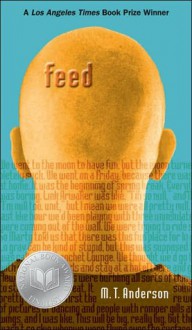 Feed
ISBN:
9780739344392 (0739344390)
Publish date:
May 27th 2006
Publisher:
Listening Library, Inc.
Edition language:
English
Bookstores:
Fangirl Moments and My Two Cents
rated it





4 years ago
2.5 starsI think I was the wrong audience for this book since it's really for younger readers. Often I like those types of stories, but the characters in Feed were annoying to me. I do still recommend it to younger readers. Everything is so in your face which is really what the book is about. In...
A Reading Vocation
rated it





4 years ago
This seminal teen dystopia has been on my TBR forever (maybe since it was published?) and thanks to my book club I finally got it checked off!I always find it a little refreshing to read "old school" teen dystopias, before the formula of singular teen who realizes the evil of "the system" and vows t...
Read All The Things! Reviews
rated it





6 years ago
I wasn't sure if I'd like this book when I started reading it. It's written in a futuristic dialect that's slightly difficult to get used to, and the characters aren't the brightest crayons in the box. In a futuristic world, almost everyone has a "feed" in their brain. The feed controls their bodi...
Reading For The Heck Of It
rated it





6 years ago
Think A Clockwork Orange meets I, Robot and you're on the right track to grasping the concept of Feed. If you've ever read or watched A Clockwork Orange, you'll remember the made up language/slang called Nadsat which was so complicated that a glossary was included at the back off the book. Feed isn'...
kvela
rated it





7 years ago
Feed is set in "future" earth which has been ecologically devastated and corporations rule. In this dystopian novel most of the citizens have been implanted with a chip that connects their brain to the feednet, an advanced form of internet. Through this people are able to communicate with each other...
Share this Book
http://booklikes.com/feed-m-t-anderson-david-aaron-baker/book,950815