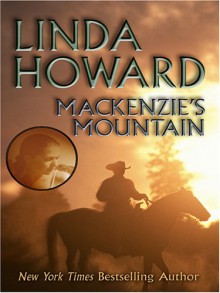 Mackenzie's Mountain
ISBN:
9781597221498 (159722149X)
Publish date:
January 1st 2006
Publisher:
Wheeler Publishing
Edition language:
English
Series:
Mackenzie Family (#1)
Bookstores:
WhiskeyintheJar Romance
rated it





6 years ago
I wish I had read this about 10-20yrs ago, I think then I would have loved it as much as others do. There are a couple older books (hello, purple prose!) that are very close to my heart that others read for the first time in this day and age and they don't find it as great as me. I think this may be...
The Cheapest ROOM
rated it





7 years ago
This author CANNOT DISAPPOINT! Linda Howard,Before reading this book I had experienced a smaller reader slump. I tried to read A LOT of books, but I never got past the first chapter. I almost gave up hope when I thought it might be time to read another Linda Howard book. And I was right! Mackenzie's...
Bark at the Ghouls
rated it





7 years ago
I read this awhile ago and am still fixing/updating my GR reviews one by one. This is an old category romance that I read way back when. I'm not usually a re-reader but I stumbled across this in unabridged audio format and figured what the heck. I listen to audio's when I'm doing tedious tasks lik...
mybookjournal
rated it





7 years ago
As my rating says it was just ok. There was nothing new/great about this book. Initially it started of well the story looked promising but I felt somewhere in middle it stopped moving . The book became quite repetitive and boring the ending was predictable.But i may continue with the series Joe seem...
BUGGY
rated it





8 years ago
Opening Line: He needed a woman. Bad."I had a ton of problems with this book and I'm finding it really difficult to review because as much as this story confused me, annoyed me and downright offended me, in the end as much as I wanted to I just didn't hate it. I did however breathe a sigh of relief ...
Share this Book
http://booklikes.com/mackenzie-s-mountain-linda-howard/book,1641422