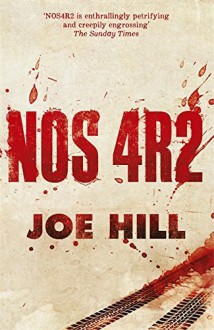 NOS4R2 by Joe Hill (6-Nov-2014) Paperback
Publisher:
Gollancz (6 Nov. 2014)
Edition language:
English
Bookstores:
99 problems, and a book ain't one
rated it





10 months ago
I finally read my first Joe Hill book! I've been wanting to for some time now. I could definitely see the family resemblance, hard to miss even without all the many nods at his dad's numerous works. I don't want to compare the two, but one thing I found a little lacking here was something that King ...
FeeRtheDragon
rated it





2 years ago
NOS4A2 by Joe Hill is a story about a young girl, Victoria McQueen, who has a secret gift for 'finding' things. When she 'finds' Charles Talent Manx, her life is changed forever.Joe Hill's writing is captivating, his world building is impeccable, and I loved the Easter eggs throughout the story as a...
carolesrandomlife
rated it





2 years ago
This review can also be found at Carole's Random Life in Books.I liked this book quite a lot. I read Heart-Shaped Box by Joe Hill years ago and liked it but for some reason had never picked up anything else by the author. I have been hearing great things about this book for years and added the book ...
Red Lace Reviews
rated it





3 years ago
NOS4R2 by Joe Hill My rating: 5 of 5 stars Victoria McQueen discovers her mind can do something very special - it can summon a bridge that can transport her anywhere she wants to go. One day, in a fit of dangerous thinking, she finds herself within the vicinity of a very unstable child abductor; Cha...
Joelle's Bibliofile
rated it





3 years ago
Victoria (Vic) McQueen exercises her keen imagination as she races along on her bike, pretending to be a powerful adventurer while escaping the confines of her tense home. One day, she discovers that she has a real magical ability: she can use her mind to create a temporary bridge to her wished-fo...