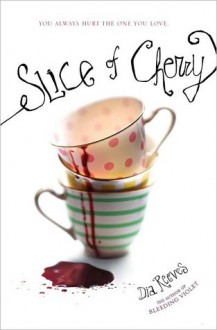 Slice of Cherry
Edition language:
English
Bookstores:
Bibliobimbo
rated it





9 years ago
YOU MUST READ THIS BOOK.
Karin's Book Nook
rated it





9 years ago
Kit and Fancy are as close as two sisters could ever be. They are inseparable and prefer the company of each other rather than mingling with the other residents of Portero, TX. They are reluctant to go amongst the other people in town, mostly because of the way they are treated. Kit and Fancy are t...
Me on Books
rated it





10 years ago
The book takes place in Portero, Texas, the town where monsters live and some really creepy stuff happens, but everyone finds it normal. Our main characters are Kit and Fancy Cordelle, close sisters and the daughters of the infamous Bonesaw Killer, a serial killer.Kit and Fancy aren't your average g...
Katie's Book Blog!!
rated it





10 years ago
Dia Reeves' debut novel, Bleeding Violet, was one of my favorite books of 2010 but I can't say that Slice Of Cherry will be a favorite for 2011. I did enjoy the book and I definitely thought it was just as unique as Bleeding Violet. This one was a lot darker though and it took me a while to get past...
Nerdy Reading
rated it





10 years ago
For some odd reason I couldn't finish this book. I loved Bleeding Violet & this book was just as original as that, but I just couldn't go on. Maybe some day I'll pick it back up & continue where I left.
Share this Book
http://booklikes.com/slice-of-cherry-dia-reeves/book,6081941