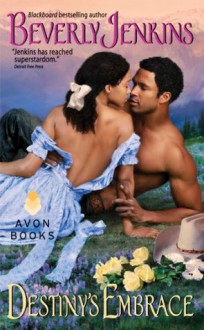 Ohh la la. Seriously though I am loving these historical romances by Jenkins. This one is the first book in her "Destiny" series. I loved the hero and heroine and cannot wait to read more books featuring the Yates brothers.
In "Destiny's Embrace" we follow Logan Yates and Mariah Cooper. Mariah Cooper is living in Philadelphia with her rage filled mother. Mariah wants to get married, but is shunned due to the color of her eyes (golden) and the fact that her mother refuses to let anyone too close to her. When Mariah suffers one more beating by her mother, she flees to her aunt who tells her her mother's past. Mariah's aunt pushes her to answer an ad for a housekeeper in California. Logan causes his mother fits. His house is a mess (and it smells) and all she wants is for him and his two brothers to settle down and give her grand babies. When Mariah come along the two go together like oil and water. She pushes his buttons and vice versa. Since Logan is up front about never marrying and only wanting a woman long enough to be a mistress, we get to follow him as he is shut down by Mariah and her not wanting to be another notch on his bedpost.
I loved the transformation of Mariah from cowed to queen in this one. She also made me laugh about her matter of fact way of enjoying Logan's kisses, but not being foolish enough to think he means anything by it. I also loved her relationship with his mother.
Logan and his brother and best friend's fits at him not knowing what to do about Mariah was hilarious. That's all I got.
The setting in this time period is interesting. I liked that Logan's mother Alanza (step-mother really) is descended from a different side of California that many don't think of When California was a Spanish and Mexican colonial at some points during the decades. You get to see how that place seemed to be more forward thinking of mixed race people.

The ending was great though it felt a bit rushed. I can't wait for book #2!