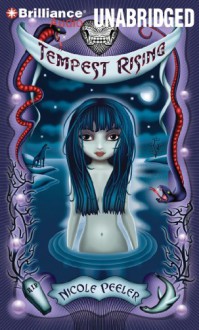 Tempest Rising
ISBN:
9781441887467 (1441887466)
Publish date:
November 20th 2010
Publisher:
Brilliance Audio
Edition language:
English
Bookstores:
TsalagiWriter
rated it





7 years ago
Jane True lives in a small town with people she mostly doesn't really fit in with. And it's not like the people in her town even try to make Jane feel like she belongs anyway. Especially since her boyfriend died eight years ago and most people feel that it was her doing. And if that wasn't bad enoug...
The Demon Librarian
rated it





8 years ago
This book was just as cute as its cover and surprisingly creative and plot-rich. It's touted as an alternative to Sookie Stackhouse. Personally I see absolutely no similarities in theme, writing style or plot. In fact about the only similarity I can see is the cartoon-like cover. Which, by the way, ...
Inkspot Fancy
rated it





8 years ago
Having finished this book last night, I think I can sum up my feelings in a word.Meh.This is not a BAD book, by any stretch. The ideas are sound, the writing is clean, the plot clear and intelligible and it has a really great voice. In another book, I think the writing could probably have been upgra...
Unputdownable Books
rated it





8 years ago
What can I say about a book I disliked wholeheartedly? Let's start with the beautiful cover. The cover art is original and unique and definitely stands out amongst many urban fantasy books and is completely accurate to the book. The Book Cover and the intriguing book synopsis got me all excited to ...
Barbara's Booky Blog
rated it





8 years ago
I dislike books that blatantly draw off other books/movies/television. And this one did all three. Jane's inner dialogue (sex and the city) got irritating real fast. And the Sookie similarities were just too obvious. I understand that most subjects have been written to death but if you don't have...
Share this Book
http://booklikes.com/tempest-rising-nicole-d-peeler-kate-reinders/book,5373021