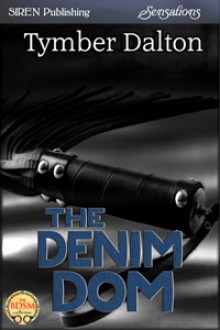 The Denim Dom
Tymber Dalton,NOOK Book (eBook), English-language edition,Pub by Siren-BookStrand
Tymber Dalton,NOOK Book (eBook), English-language edition,Pub by Siren-BookStrand
show less
ISBN:
9781622426034 (1622426037)
Publish date:
March 1st 2013
Publisher:
Siren Publishing
Edition language:
English
Series:
The Suncoast Society
Bookstores:
Sandi
rated it





8 years ago
This review is difficult for me. I had to give it 5 stars as everything I judge a book on is there: the story line, character development, enough backstory, emotional involvement as they progress in their relationship. Why do I have a problem? The Dom is a sadist, I have a personal problem with sa...
Kyahgirl
rated it





8 years ago
4/5; 4 stars; A-This book was a real winner for me in the Erotica/BDSM genre. I was hesitant in light of my mixed reaction to The Reluctant Dom, a book that most people raved about. However, Tymber Dalton is a good writer and I thought she did a great job of writing a fictional story that sheds ...
Miss
rated it





8 years ago
Finally we get Tony's story! The Reluctant Dom was my introduction into anything BDSM. That book was so emotional and heartbreaking I think I cried the entire time I spent reading it. The Denim Dom is not nearly as intense as TRD but it was well written, and written responsibly. Tymber Dalton actual...
Julz's Jewels
rated it





8 years ago
3.5 rounded upReview to come
The Romance Evangelist
rated it





8 years ago
Tymber Dalton never disappoints!