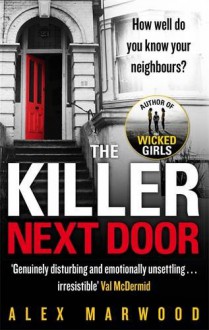 The Killer Next Door
ISBN:
9780751550696 (0751550698)
Edition language:
English
Bookstores:
Reading is my ESCAPE from Reality!
rated it





3 years ago
Sleep is a luxury whose price is security. Those who can shut the world out and leave it at will are usually blessed by a world that doesn't want to shut them up. - Chapter 20 A group of boarders living in a run-down apartment house; they all have secrets, that's why they ended up there. But one ...
Cushla
rated it





6 years ago
Synopsis: No. 23 has a secret. In this gloomy, bedsit-riddled South London wreck, lorded over by a lecherous landlord, a horrifying collection quietly waits to be discovered. Yet all six residents have something to hide. Collette is on the run from her ex-boss; Cher is an underage children's home es...
Blood Rose Books
rated it





7 years ago
Alex Marwood takes the reader to a boarding house and one event will bring the tenants closer together but they will also realize how very little they know about each other: Everyone who lives at 23 Beulah Grove has a secret and this is just the place that Collette needs to be to hide from the men ...
Tina's Reading Space
rated it





7 years ago
Wow. That is all I can come up with at the moment. The Killer Next Door is not what I expected, but I thoroughly enjoyed it. I wouldn't necessarily categorize this as a thriller but I don't know what other genre would be appropriate given the nature of the book. There weren't a lot of surprises or t...
Steph's Books
rated it





8 years ago
I enjoyed Alex Marwood's first novel, The Wicked Girls but this one I loved so much more. A rundown house where most of the inhabitants harbour a secret or a reason to be afraid. The landlord is a horrible creation, but then you get characters like Cher, Vesta and Psycho who I loved. Wouldn't recomm...
Share this Book
http://booklikes.com/the-killer-next-door-alex-marwood/book,11047918