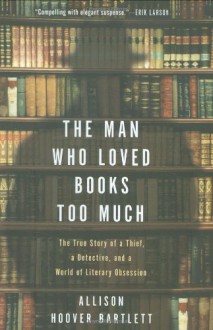 The Man Who Loved Books Too Much
ISBN:
9780670067992 (0670067997)
Edition language:
English
Bookstores:
Forrest Aguirre, in the Leaves
rated it





7 years ago
As both an undergraduate and graduate student, I had a penchant for spending time in the rare manuscripts rooms at both BYU and University of Wisconsin-Madison. While my studies in African History did require me to spend time there to peruse books for research, I enjoyed taking time to thumb through...
Suzanne Reads
rated it





8 years ago
http://srearley.booklikes.com
Suzanne Reads
4.0
The Man Who Loved Books Too Much: The True Story of a Thief, a Detective, and a World of Literary Obsession
This was a completely accidental find -- I was searching NEIBORS for books by an author with the last name of Hoover, and this came up in the search. My NaNoWriMo novel is about a librarian, and the idea of book thieves totally caught my attention. I'm not a huge reader of nonfiction, but this read ...
madbkwm
rated it





8 years ago
In theory I should have loved this book. Bartlett mixes two of my favorite things (a good crime story and a love of books) and it is even a true story! And, I do think that it was a (slightly) interesting read and that Bartlett had three valid points. Unfortunately, Bartlett is a journalist and th...
daisyq
rated it





8 years ago
I found this only intermittently interesting, mainly in the asides on book collecting and interviews with book traders who do genuinely love books. Ken Sanders, who tracks down the book thief of the title, is also an interesting character and one I felt the author didn't focus on enough.The book's p...
Barrita
rated it





9 years ago
La premisa es interesante, pero deja de serlo pronto y no hay nada nuevo que vuelva a llamarte la atención. Si bien es agradable leer sobre el amor por los libros, suele desagradarme esa reverencia que tienen algunos hacia la literatura, como si leer te volviera una raza glorificada de ser humano.Ha...