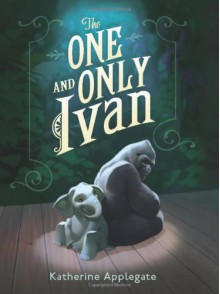 The One and Only Ivan
ISBN:
9780606354813 (0606354816)
Publish date:
December 23rd 2014
Publisher:
Turtleback Books
Edition language:
English
Bookstores:
Freda's Voice
rated it





7 months ago
What a beautiful story!I love reading about animals, but to read it from the animals perspective is way cooler! It was a bit of an emotional rollercoaster though. Not every chapter had a happy ending. That's what made this story brilliant though. It captured everything you could imagine for that spa...
Karen's books
rated it





2 years ago
Anyone who knows me knows animal stories have always been my favorites. I actually thought I would make through this one heartstrings untouched, but it is so hard to read words on the page with all this "humidity" affecting my eyes...
Chris Blocker
rated it





2 years ago
The One and Only Ivan is a wonderful story that takes place on a farm called the Exit 8 Big Top Mall and Video Arcade. On this farm, animals of different species are able to communicate with one another, though they can't talk to humans. One of these animals is Charlotte, an old elephant full of con...
Ms. Banks' Blissful Books
rated it





2 years ago
The One and Only Ivan is a great a book for older students it dives into issues that they need to be aware of. This would be a great book to incorporate shared reading and discuss the vocabulary throughout the book. Another great activity would be using an anchor chart that displays each place Ivan ...
Katherineea
rated it





2 years ago
Ivan is a gorilla who has been confined to a small "domain" of concrete, metal, and glass for 27 years. Joining Ivan at the Exit 8 Big Top Mall and Video Arcade are Stella, an aging elephant, and Bob, a feisty stray dog. While other animals perform, Ivan makes art, watches TV, and offers melancholy ...
Share this Book
http://booklikes.com/the-one-and-only-ivan-katherine-applegate-patricia-castelao/book,7426785