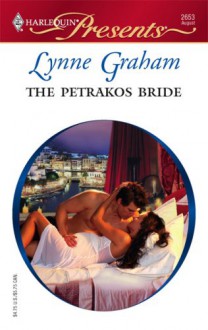 The Petrakos Bride (Greek Tycoons)
ISBN:
9780373126538 (0373126530)
Publish date:
August 1st 2007
Edition language:
English
Series:
Greek Tycoons 8 (#47)
Bookstores:
tishke
rated it





8 years ago
2.5 stars.A fast read. The lead male is really too full of himself and the lead female is basing her opinion of the guy on one act of kindness he has done many years ago instead of his current actions which were partially despicable.
Liz Loves Books
rated it





9 years ago
I liked that the heroine had some backbone but she could be a little screechy and even hypocritical. Oh and paranoid as well. Also, this is the kind of HP where you're never all that sure the hero loves the heroine, even though he swears he does at the end. His attitude just a week or so before marr...
Romance Books Reviews & Treats
rated it





10 years ago
The story is about a temp employee who's been idolizing attractive hero since he made her dying sister's wish come true 9 yrs ago and has immediate affair with him. But she didn't know that he was engaged to be married to another, even though it's a marriage based on convenience & not passion. She l...
willaful
rated it





11 years ago
If you can't stand a heroine with a Madonna/Whore complex, better avoid this one. Other than that, an okay read.