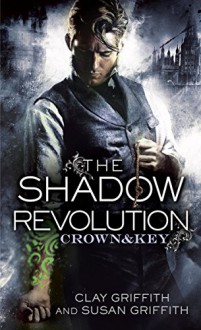 The Shadow Revolution (Crown & Key)
ISBN:
9780345539519 (345539516)
Edition language:
English
Bookstores:
fruitcakes
rated it





4 years ago
Just not for me
CheriePie's Books
rated it





6 years ago
It's Victorian London and Simon Archer is a scribe, a magick practitioner that uses runes and tattoos to focus his magical energy. Posing as a handsome rogue playboy to infiltrate society and hide his abilities, he and his mentor Nick Barker, attend a society ball to discover more about the pesky we...
Bücher, Bücher, 100000 Bücher
rated it





6 years ago
I'm giving this one star not because it was incredibly awful but because it was utterly forgettable. I could not even give you a short summary of what happened or name more than one person (Simon, I remember Simon since there were about 100 "Simon says"'s in there). It had potential but then I start...
BOOKWRAITHS REVIEWS
rated it





6 years ago
Other reviewers have compared The Shadow Revolution to a summer blockbuster movie, which is an apt description. However, I personally like to think of it as a Victorian Era roller coaster; it bursts from the pages going full speed, slows down long enough for you to catch your breath before plunging ...
Evaine's Books, Books and More Books
rated it





6 years ago
I had such high hopes for this book. It sounded so good but sometimes what sounds good is not what one actually gets. The characters are interesting on the surface, but we seldom, if ever, get below the surface to find out what really makes them tick, what motivates them, what elevates them abo...