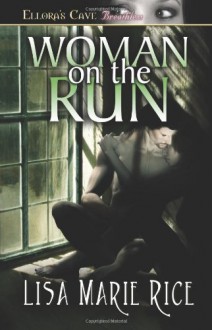 Woman on the Run
ISBN:
9781419952050 (1419952056)
Publish date:
October 1st 2005
Publisher:
Ellora's Cave Publishing Inc.
Edition language:
English
Bookstores:
Yona's Book World
rated it





8 years ago
Loved this one. A perfect start for the new year challenge. I would have liked 2 more sentences to see what Coop's reaction would be, but this was really one wonderful book.
Fiordiligii
rated it





8 years ago
Comfort re-read and still my favourite LMR. No one does sexy vanilla like this author. A
Book Hoarders Anonymous
rated it





8 years ago
More like a 3.5. You know... at the beginning, I didn't hold much hope for this book. The h had all the signs of being too stupid to live. She's a witness to a mob hit, is being given a new ID in the witless protection program (spelling intentional), and she's arguing with the guy. Fortunately,...
MostlyDelores
rated it





9 years ago
I'm really enjoying Lisa Marie Rice right now, these books have an old-school Linda Howard feel to them and I'm a sucker for that. Big, strong, inarticulate ex-soldier meets delicate, sophisticated designer and it's lust at first sight. Plus dangerous killers, there have to be killers :)I also love ...
marielouise
rated it





9 years ago
I keep on avoiding Lisa marie rice's book because of its abrupt ending but this book is great I can't resist it...its when you're on the edge of the story, building up the suspense and then Bam! what???that's it, it just take that to end.damn.ooops...but at least the epilogue hold it wheww that was ...
Share this Book
http://booklikes.com/woman-on-the-run-lisa-marie-rice/book,1993690