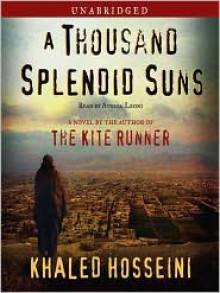 A Thousand Splendid Suns: A Novel (Audio)
ISBN:
9780743567619 (0743567617)
Publish date:
May 22nd 2007
Publisher:
Simon & Schuster Audio
Edition language:
English
Bookstores:
Darth Pedant
rated it
6 months ago
When I read The Kite Runner about five years ago, I thought the experience was like watching a beautifully described train wreck. I could clearly see where the engine was going to leave the tracks, and then I could not look away as car after car piled up after it. Slam! Crash! Boom! Tragedy after ca...
Wortmagieblog
rated it
2 years ago
Khaled Hosseini wurde 1965 in Kabul als Sohn eines Diplomaten geboren und wuchs als Asylant in Kalifornien auf, da seine Familie nach einigen Jahren in Paris aufgrund der politischen Lage nicht nach Afghanistan zurückkehren konnte. 2001 begann er, "Drachenläufer" zu schreiben, das 2003 veröffentlich...
Dem
rated it
3 years ago
Book club Read.
Georgetta
rated it
3 years ago
I was aware of the hype around Hosseini (despite not having read Kite Runner) and was worried that it would be impossible for 'A Thousand Splendid Suns' to live up to my expectations. I needn't have worried. A masterpiece.
nicky2910's book reviews
rated it
3 years ago
Mariam, a girl born out of wedlock and living in a shed outside of Herat, has only one dream: to go live with her father Jalil whom she adores beyond measure. After her mother's suicide, indeed she joins his household only to realize that he sees her as embarrassment - she's married off to a man, Rh...