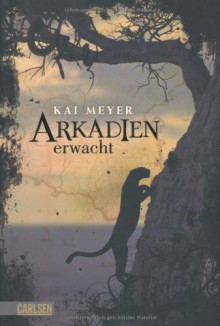 Arkadien, Band 1: Arkadien erwacht
Format:
Gebundene Ausgabe
ISBN:
9783551582010 (3551582017)
Publisher:
Carlsen Verlag GmbH
Edition language:
Deutsch
Bookstores:
Chias Bücherecke
rated it
6 years ago
"Arkadien erwacht" von Kai Meyer ist der Auftakt einer Fantasy-Trilogie, die in Italien spielt. Rosa Alcantara sitzt in einem Flugzeug von Amerika nach Italien. Sie bemerkt, dass auf ihrem MP3-Player alle Lieder gelöscht sind und nur ein einziges Unbekanntes drauf ist. Bei ihrem Zwischenstopp in Rom...
Seitenrascheln
rated it
7 years ago
Auch auf diese Trilogie machte mich eine Freundin aufmerksam. Da ich vor ewigen Zeiten mal ein Buch von Kai Meyer aus der Bibliothek ausgeliehen hatte und ich noch wusste, dass ich das damals ziemlich gut fand, beschloss ich, die Arkadien-Trilogie auch mal zu lesen. Schon der Klappentext klang sehr ...
MartinaBookaholic
rated it
7 years ago
Nach der großen Vorfreude auf das Buch, war es leider etwas enttäuschend. Kann nicht genau sagen warum, aber Schreibstil war nicht meines und auch die Charas konnten mich wenig mitreißen... Rezi folgt noch...
nadines
rated it
9 years ago
Romeo und Julia meets Der Pate meets Gestaltwandlerstory... Die 17-jährige Rosa kehrt nach Sizilien, dem Schoß ihrere Familie zurück um Abstand zu den schrecklichen Dingen zu bekommen, die ihr in New York widerfahren waren. Ihre Familie nimmt eine führende Rolle in der Mafia ein. Noch im Flugzeug na...
Jess Unbound
rated it
9 years ago
It sounds like a mixture of "Romeo and Juliet", "The Godfather" and "Twilight". A cheesy romance between two young people from families that are enemies for centuries now and all of that is overshadowed by a dark mysterious secret.But "Arkadien erwacht" (Arkadien awakes) is more than you would expec...
Share this Book
http://booklikes.com/arkadien-band-1-arkadien-erwacht-kai-meyer/book,12359263