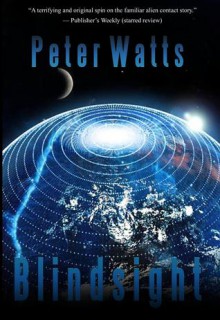 Blindsight
ISBN:
2940011898372 (0011898372)
Publish date:
November 22nd 2010
Publisher:
New Century Books
Edition language:
English
Bookstores:
Musings/Träumereien/Devaneios
rated it
2 months ago
"I am the bridge between the bleeding edge and the dead center. I stand between the Wizard of Oz and the man behind the curtain. I am the curtain." In "Blindsight" by Peter Watts What if: There is only one consciousness that we all share? (Universal Consciousness) What if: People are caught in the i...
pareidolia
rated it
9 months ago
Maybe I'm foolish Maybe I'm blind Thinking I can see through this And see what's behind Got no way to prove it So maybe I'm blind What is this elusive thing we call "self" anyway? What is consciousness, what is self-awareness, how does sentience relate to intelligence – and can there be one...
zaczytany
rated it
2 years ago
Wśród przeróżnych rankingów literatury sci-fi prym wiodą przede wszystkim pozycje starsze, leciwe wręcz, które weszły do kanonu i klasyki gatunku. Jednym z wyjątków od tej reguły jest książka całkiem niedawno wydana przez pewnego biologa morskiego. Jak się okazuje, odnajdując się w głębinach morskic...
Leaves
rated it
3 years ago
The best scifi novel I've read in ages...
Flicker Reads
rated it
4 years ago
I'm still feeling the aftershocks of this novel. This is a book dense with ideas. It's as if someone took Michael Crichton's silly book Sphere and made a really interesting and intelligent piece of speculative fiction within the same thematic territory: what if we encountered a truly alien species? ...