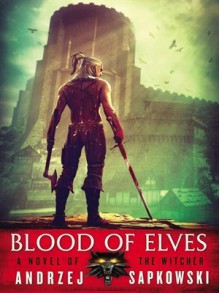 Blood of Elves (The Witcher, #1)
ISBN:
9780316073714 (0316073717)
Publish date:
May 1st 2009
Edition language:
English
Series:
Saga o Wiedźminie (#3)
Bookstores:
Gene
rated it
2 years ago
This book signifies a sharp departure from the previous two. The first and second ones were collections of short stories mostly told from Geralt the Witcher POV. This time this is a full-length novel with multiple POVs. Actually we only see Geralt's POV in just one chapter - and a shortish one too. ...
☢Lia Berg☢
rated it
3 years ago
This story has racism, political problems, adventure, magic, and more! I really enjoyed how Ciri progressed through this story. Geralt wasn't really the main character of this story, but Ciri was. That didn't bother me at all since Ciri is a complete bad-ass!I really enjoyed this huge adventure and ...
Cygan
rated it
4 years ago
Całą serię omijałem szerokim łukiem. I to dobre parę lat. Bo... za duże zamieszanie wokół autora, bo krytyka całości i fragmentów, bo nieoryginalne, bo chwilami oskarżenia o plagiat, bo pisanie dla pieniędzy, bo kariera na fali popularności gatunku itp. itd. A kiedy wszystko ucichło, to zdecydował...
ken
rated it
5 years ago
Different than the story collections of the first two, but still very entertaining.
jules0623
rated it
5 years ago
2.5 stars. It was alright.
Share this Book
http://booklikes.com/blood-of-elves-the-witcher-1-andrzej-sapkowski/book,558465