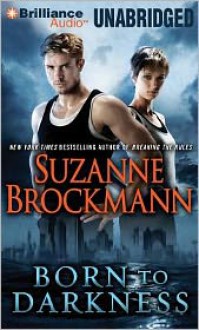 Born To Darkness
Suzanne Brockmann,Compact Disc - Unabridged,Series: Eternal Youth Series 1, English-language edition,Pub by Brilliance Audio
Suzanne Brockmann,Compact Disc - Unabridged,Series: Eternal Youth Series 1, English-language edition,Pub by Brilliance Audio
show less
ISBN:
9781441850805 (1441850805)
Publish date:
March 20th 2012
Publisher:
Brilliance Audio on CD Unabridged Lib Ed
Edition language:
English
Series:
Fighting Destiny (#1)
Bookstores:
Elena Likes Books
rated it
10 years ago
I was pleasantly surprised by this book's relative unformulaicness. Most romance novels are totally predictable, but this one wasn't at all. It was also really disturbing--this book is not for the faint of heart. It's sort of a superhero thriller romance. And you get three romances for the price of ...
Wyvernfriend Reads
rated it
10 years ago
I did enjoy this story. Set in a near future where things are worse than they are now and you need money to get anywhere. Shane Laughlin is an ex-naval SEAL, dishonourably discharged and looking to do something, preferably honest. He's offered a chance to take part in a project and finds himself ...
Kyahgirl
rated it
10 years ago
2.5/5; 3 stars; C+I listened to this book a couple of weeks ago. I liked it but didn't love it. I think the premise was interesting but there were too many characters and not enough depth to any of them. This is a pretty long book. It was 16 discs on audio. There wasn't 16 discs worth of story....
Feminista
rated it
10 years ago
Rating: 5 out of 5.Whoa... I am really happily surprised. The last time I gave a five was more than a month ago. And that is saying something as I usually read a book a day.I picked this book up because it looked like something I might enjoy. Yeah, I judged the book by its cover. :) And now I am rea...
CarlAlves
rated it
11 years ago
When I saw the jacket cover to Born to Darkness and saw that it was a futuristic novel featuring "greater thans" that can use a greater portion of their mind, which in essence gives them super powers, I thought well that's a cool idea. Unfortunately, that was the only redeemable aspect of this novel...