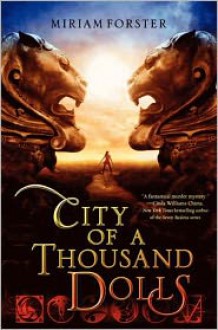 City of a Thousand Dolls
Miriam Forster,Hardcover, English-language edition,Pub by HarperCollins Publishers on 02-05-2013
Miriam Forster,Hardcover, English-language edition,Pub by HarperCollins Publishers on 02-05-2013
show less
Edition language:
English
Bookstores:
The Blair Book Project
rated it
11 years ago
Pretty good. :) Review to follow.
The Hiding Spot
rated it
11 years ago
Though it's still early in the year, I feel that I can confidently say Miriam Forster's City of a Thousand Dolls will end up on my Best of 2013 List in December. The world, the characters, the mystery, and the romance within this novel's pages mark it as a stellar debut and a memorable fantasy novel...
Bibliophilic Monologues
rated it
11 years ago
City of a Thousand Dolls is not…bad. It was my most anticipated book of the year and unfortunately it did not live up to my expectations but it certainly wasn't terrible. When a novel is touted as high fantasy and comes with a synopsis like the one this one does, some expectations will latch themsel...
Happy Booker
rated it
11 years ago
Great narrator, boring story.
Parajunkee
rated it
11 years ago
PJV Quickie: The CITY OF A THOUSAND DOLLS was a total contradiction of plot, belief structures and characters. Rich world-building that fell short before it was realized, characters that came to conclusions without proper proof given. Then, the immense amount of boring details that were relegated ov...