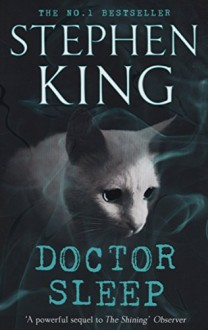 Doctor Sleep
ISBN:
9781444761184 (1444761188)
Publisher:
Hodder Paperbacks
Edition language:
English
Bookstores:
Quite the Wondering Selection
rated it
8 months ago
Wasn't sure how King would sequel The Shining, but he did a pretty good job. Always amazing to see alcoholism so prominent in the story. The Doctor Sleep part was pretty quick and not well explained, but the story of the True Knot and the evin with Rose was good and descriptive. Are they related ...
Toni
rated it
10 months ago
The Shining #2In this sequel to the "Shining" we see booze hound and drifter Dan Torrance finally settling down in a small town in New Hampshire, going to AA meetings and working as a night porter in the local hospice. Being sober, his supernatural talents enable him to help people die peacefully wh...
Wanda's Book Reviews
rated it
11 months ago
On highways across America, a tribe of people called The True Knot travel in search of sustenance. They look harmless - mostly old, lots of polyester, and married to their RVs. But as Dan Torrance knows, and spunky 12-year-old Abra Stone learns, The True Knot are quasi-immortal, living off the "stea...
Book Thoughts
rated it
1 year ago
It had been a while since I had read a Stephen King novel. As always, I enjoyed the story a great deal. King has a way of writing and building characters that is second to none, and I can't recall ever reading his work and not coming away entertained. This novel is a sequel of sorts to his famous...
IntheZone
rated it
2 years ago
This was a really good followup up to the Shining. Stephen King and Will Patton make an excellent team.
Share this Book
http://booklikes.com/doctor-sleep-stephen-king/book,13562984