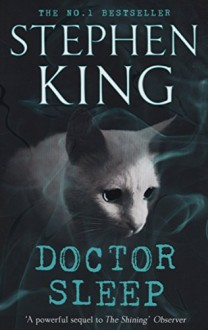 Doctor Sleep
ISBN:
9781444761184 (1444761188)
Publisher:
Hodder Paperbacks
Edition language:
English
Bookstores:
Toni
rated it
4 months ago
The Shining #2In this sequel to the "Shining" we see booze hound and drifter Dan Torrance finally settling down in a small town in New Hampshire, going to AA meetings and working as a night porter in the local hospice. Being sober, his supernatural talents enable him to help people die peacefully wh...
Wanda's Book Reviews
rated it
5 months ago
On highways across America, a tribe of people called The True Knot travel in search of sustenance. They look harmless - mostly old, lots of polyester, and married to their RVs. But as Dan Torrance knows, and spunky 12-year-old Abra Stone learns, The True Knot are quasi-immortal, living off the "stea...
Book Thoughts
rated it
11 months ago
It had been a while since I had read a Stephen King novel. As always, I enjoyed the story a great deal. King has a way of writing and building characters that is second to none, and I can't recall ever reading his work and not coming away entertained. This novel is a sequel of sorts to his famous...
IntheZone
rated it
2 years ago
This was a really good followup up to the Shining. Stephen King and Will Patton make an excellent team.
Book Fay
rated it
2 years ago
November went so fast and look it is almost Christmas! Where time flies ?! However I am a little bit late with my wrap - up and I am sorry about that. So.... Books I've read: 4 Pages in total: 1596 I've came in to November with a book I've started in October for "read a book written by an...
Share this Book
http://booklikes.com/doctor-sleep-stephen-king/book,13562984