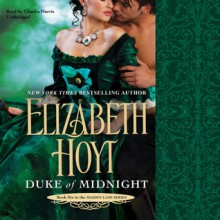 Duke of Midnight (Maiden Lane series, Book 6)
ISBN:
9781478926023 (1478926023)
Publish date:
October 15th 2013
Edition language:
English
Bookstores:
Sam's Reading: A Work in Progress
rated it
1 year ago
I'm finished, but I'm still kind of thinking about how to rate this. The heroine, she gets all the stars. And as Melody said, the nickname annoyed me. The hero...him, I don't know what to give him. He's obsessed, but with his own legacy. He's uncompromising on that. He's also upfront about that, an...
Linz Loves Romance
rated it
2 years ago
Whoa. This book could possibly be my favorite Maiden Lane story. I'd been waiting to read the Duke of Wakefield's story and it absolutely lived up to my expectations. Artemis Greaves is a lady's companion to her cousin Penelope when a family scandal leaves her with no other options. Her beloved tw...
Rendezvous With A Romance
rated it
3 years ago
I think that next to Charming Mickey and Silence's story, this is my favorite. I loved watching the Duke of Wakefield squirm and lose his precious control and order. He is a formidable man and Artemis is the perfect woman to help him lose that control. She is strong, she has to be to earn his not...
bookjunkie57
rated it
4 years ago
Duke of Midnight The Characters: Maximus Batten, Duke of Wakefield A.K.A. The Ghost of St GilesArtemis Greaves The Story: I have little to say beyond I enjoyed the story. The Random Thoughts: 4 Stars
Ilze
rated it
4 years ago
I ended up giving this one three stars even though most of the story was at a 4-star level at least. The last 25 pages though - not good. A jumble of murders, abductions, deliberately-set fires, madmen, almost-drowning of the heroine, and the revelation of the villain who murdered the hero's pa...
Share this Book
http://booklikes.com/duke-of-midnight-maiden-lane-series-book-6-claudia-harris-elizabeth-hoyt/book,7973356