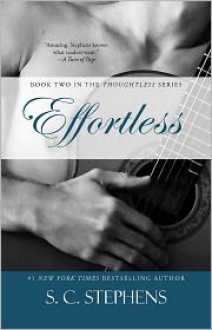 Effortless
S.C. Stephens,NOOK Book (eBook), English-language edition,Pub by Gallery Books on 08-16-2012
S.C. Stephens,NOOK Book (eBook), English-language edition,Pub by Gallery Books on 08-16-2012
show less
ISBN:
9781476717500 (1476717508)
Publish date:
August 16th 2012
Edition language:
English
Bookstores:
Ramblings From SEKS
rated it
4 years ago
Awesome...absolutely loved it! Devouring this series! On to the next one :)
isabelfranchesca
rated it
4 years ago
Rating: 4.5 My thoughts after reading "Effortless":1. SO LONGGGGGGGG! 2000+ pages on my phone2. Such an adorable couple >> KELLAN & KIERA3. I love the Christmas scene4. I love how sweet KELLAN is!a. Leaving notes for her to find while he's awayb. joking her that he wouldn't be able to make it on Chr...
Bookshelf Dreaming
rated it
4 years ago
"Hands shaking, I reached out for the paper. Blinking away the water forming in my eyes so I could read it, I held my breath.I hid this one in the hopes that you would find it long after I'm gone. I hope you find this months from now, when I'm still out there, on the road, away from you. I can't ima...
themitzz
rated it
4 years ago
So happy to see the maturity in Kiera. She drove me crazy in the first book. Reminded me of Bella in "Twilight" series with the whole Edward/Jacob "thing." But in spite of all that, I'm loving this series. The story is so well written and I was just drawn in as if I knew these characters personally....
missfifi
rated it
4 years ago
*sighs* Where should I start? I loved the story although I hate dramas. Why? Because S.C. Stephens is just that freaking talented in keeping me engrossed with the story.In this book, the most important element is TRUST.As we all know, Keira made like tons of mistakes in book 1 and it all started bec...
Share this Book
http://booklikes.com/effortless-s-c-stephens/book,7449571