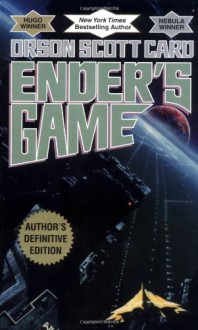 Ender's Game
ISBN:
9780765364869 (0765364867)
Publish date:
December 1st 2009
Edition language:
English
Series:
The Ender Quintet (#1)
Bookstores:
Selan
rated it
1 year ago
So I finally got round to reading this. I think it's been around for a while (1985?) and some of the concepts aren't really the kind of thing you'd get for Young Adult. I found this incredible. Training a child from a very young age to fight against these aliens who wiped out billions of people from...
Lydia's Page
rated it
2 years ago
Well. Now I can finally say I've read it!
Sarah's Library
rated it
2 years ago
Spoilers!!13/5 - Now this is how you do the first book in a series! I just finished #2 in the Maze Runner series feeling pretty pissed off because nothing was properly explained and it featured another massive cliff hanger ending. Thank God that didn't happen in Ender's Game!!! This book/author had ...
BagEndBooks
rated it
2 years ago
I read this book as an audiobook, which, according to the author's note at the end is his ideal form for people to read it in.Maybe because I read as an audiobook, I thought it was fast-paced. I thought it was exciting. I didn't love Ender, but I didn't hate him either. I felt bad for him. The adult...
TheBrainintheJar
rated it
2 years ago
Orson Scott Card is your stereotypical conservative. He supports the War on Terror, doesn't like Obama and would be very cruel to his son if he were gay. You'd think that such a person cannot write about accepting the different, or about how war is actually harsh. If you believe what they write abou...